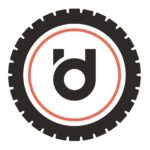 Urban Drivestyle
Test ride and review of the Urban Drivestyle UNI Moke Classic bike
When the Berlin-based brand of electric urban bikes offered us the opportunity to test their Uni Moke model, we jumped at the chance! Indeed, although our passion is more oriented towards the automotive world, we have always been passionate about electric mobility solutions on two wheels.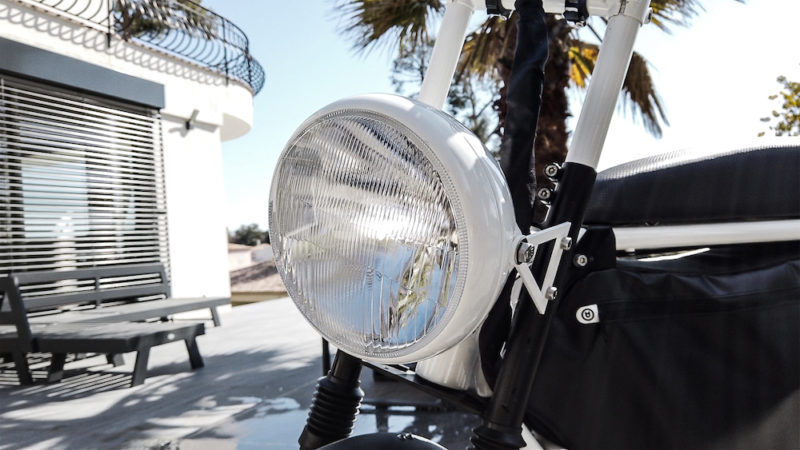 Urban Drivestyle is a German manufacturer of urban electric bikes. With the Uni Moke fatbike, the brand offers its customers a fun, practical machine that can be used for leisure as well as for daily commuting. The model we tried is unfortunately limited to 250W (due to local regulations), but a most powerful version of 750W is available on the manufacturer's website.
Uni Moke: the fun of a traditional electric bike & the unique class of a fatbike
This bike leaves no one indifferent! When we assembled it, even before we made the first turns of the wheels, the people around us to whom we presented it immediately decided: some loved it while others remained very perplexed…
It must be said that this electrically assisted bike is quite atypical. Its big headlight and its general aspect make think of a Dax or a Monkey, while its long saddle surprises with its original shape and its original design. One would almost believe that the bike is designed to carry 3 people!
The maximum load reaches 150 kg thanks to the use of a particularly well finished frame and steel. The frame is guaranteed for 3 years, which confirms the impression of high quality. The whole bike is very qualitative, with a slight drawback on the front fork damping, but it is true that we can rely on the soft comfort of the huge wheels that equip the machine. It is clear that the Uni Moke is made for asphalt, beach, grassy or rocky paths. It is clearly not adapted to a trail or pure mountain bike use and that's perfect, because that's not at all what we ask of it!
Choosing the Uni Moke is to mark your attachment to a certain idea of design, to a cool, almost nonchalant attitude, in any case far from the stress of a life set to be dynamic, efficient and productive…
Translated with www.DeepL.com/Translator (free version)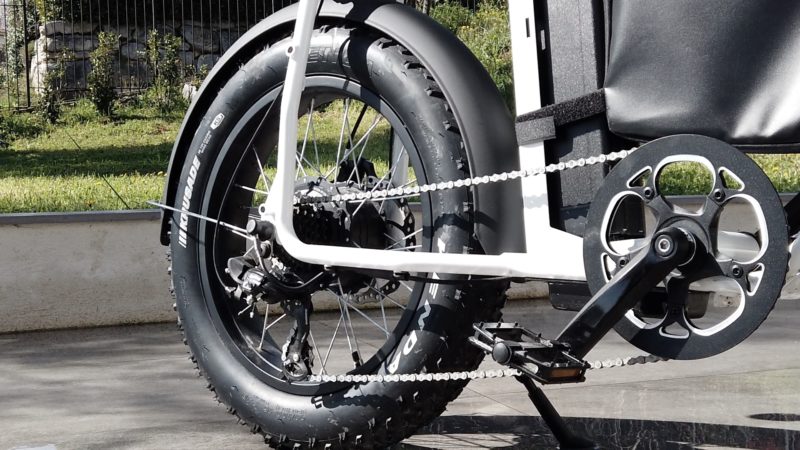 Uni Moke Urban Drivestyle test drive
The first turns of the pedals confirm it: this fatbike promotes a cool attitude. The riding position and the handlebar layout encourage a completely relaxed, almost nonchalant posture. If you are less than 1.80 m tall, there is no problem to find your ideal position. Although the legs are barely bowed, the posture remains pleasant in all circumstances. Taller people should check if this bike is suitable for them.
The LCD screen, very readable, informs us in a detailed way (autonomy, speed), it also indicates the level of assistance chosen, among 9 possible.
As far as the equipment is concerned, we really appreciated the optional pannier which equipped our fatbike and which allowed us to carry the drone which allowed us to take the pictures visible on the video above.
The sturdy stand allowed us to park our Uni Moke safely on the side of the road and many people asked us to know more about this funny bike.  When we set off again, we could also count on the 7 inch metal front headlight and the safe LED rear light.
Translated with www.DeepL.com/Translator (free version)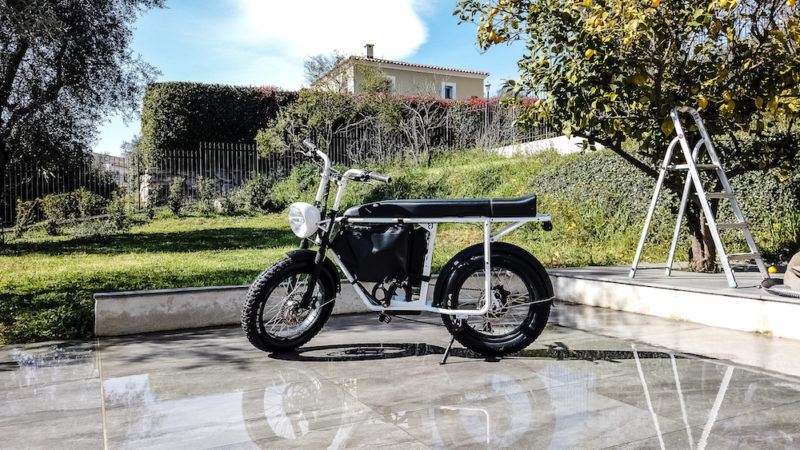 Battery capacity up to 20Ah

Loading capacity up to 150 kg

Frame guaranteed for 3 years

Weight: 31 kg (including battery)

Autonomy announced: 100 km
Samsung battery  (14,5 Ah 696 Wh or 20,4 Ah 979 Wh)

Off-road tires Kenda K-1188 20 x 4 pouces
Our conclusion
We fell in love with this atypical and very attractive bike. Urban Drivestyle says that this bike is suitable for everyday use and its test convinced us of the truth of this statement. It's a comfortable, powerful fatbike, which is perfect for daily use in town or in the countryside.
Take the opportunity to discover their website and their new products !