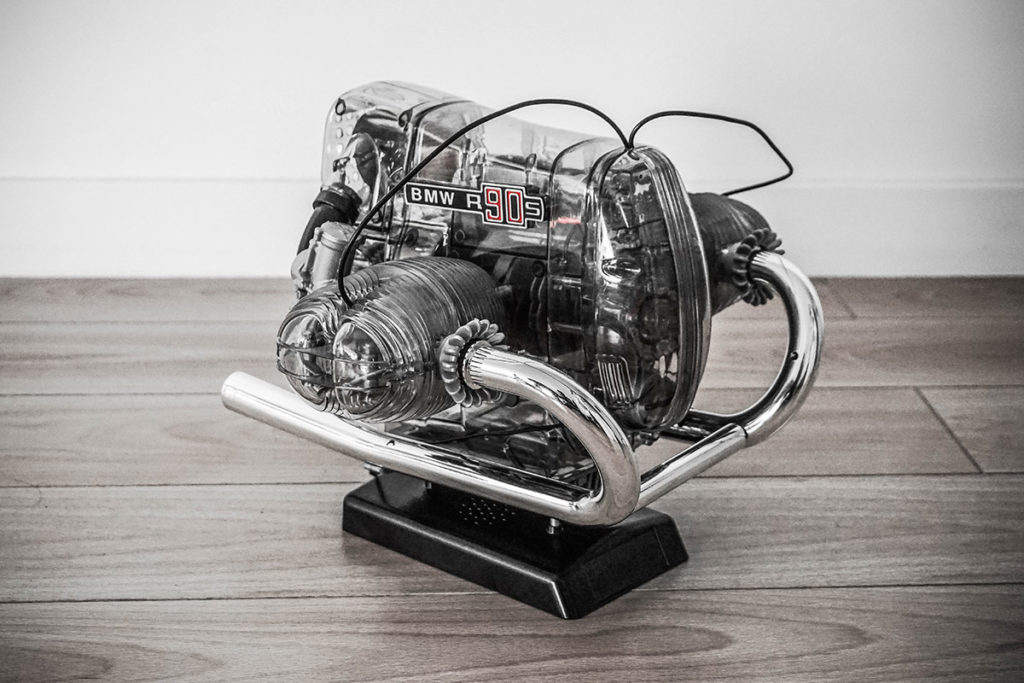 BMW R90 S engine model
When the manufacturer Franzis asked us to discover their model of the R90 S twin-cylinder boxer engine, we jumped at the opportunity!
Not only is Franzis a brand known worldwide for the quality of its models, but with the R90 S they particularly moved us because it is an iconic model of the BMW brand, which marked our childhood and our adolescence. The architecture and the sound so particular of this old version of the flat engine already came back to us …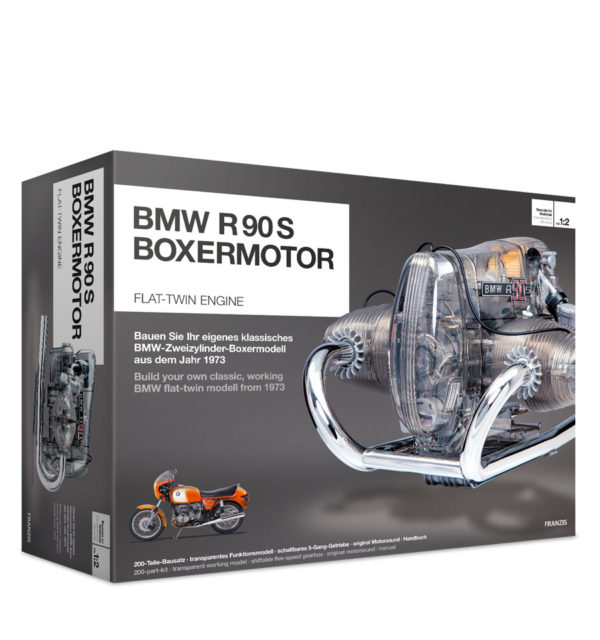 Remarkable perfection
In 1973, the BMW twin-cylinder engine of the superb R90 S developed nearly 70 horsepower and many bikers dreamed of riding the beast to cut the road at prohibited speeds …
Nowadays, taking far less risk than nostalgic and lovers of the brand can indulge themselves by putting together this stunning 200-piece, 1: 2 scale model with gearbox. functional and light effects.
The assembly of the model requires several hours and strict compliance with the instructions contained in the box. Fortunately these are very clear and allow the completion of the whole in a few hours. It took us a little over 5 hours to assemble it, with the essential and precious help of a seasoned colleague.
Our opinion on the BMW R90 S Boxer Franzis engine model
We appreciated the perfectly adjusted assembly that is possible with this model. The use of glue was not necessary at all. Everything is perfectly consistent with the full-size version: the lighting of the candles, simulated by LEDs is present, as well as the famous gearbox, which is also functional. In addition, the veracity of the whole is accentuated by the presence of a sound device that recalls the characteristic noise of the famous flat boxer.
Currently offered at a promotional price of 179 €, this is a superb model, which will certainly please amateurs.
For our part, we really appreciated it!
Did you like the article ? Discover our test of the Alpine A110 (new generation)!