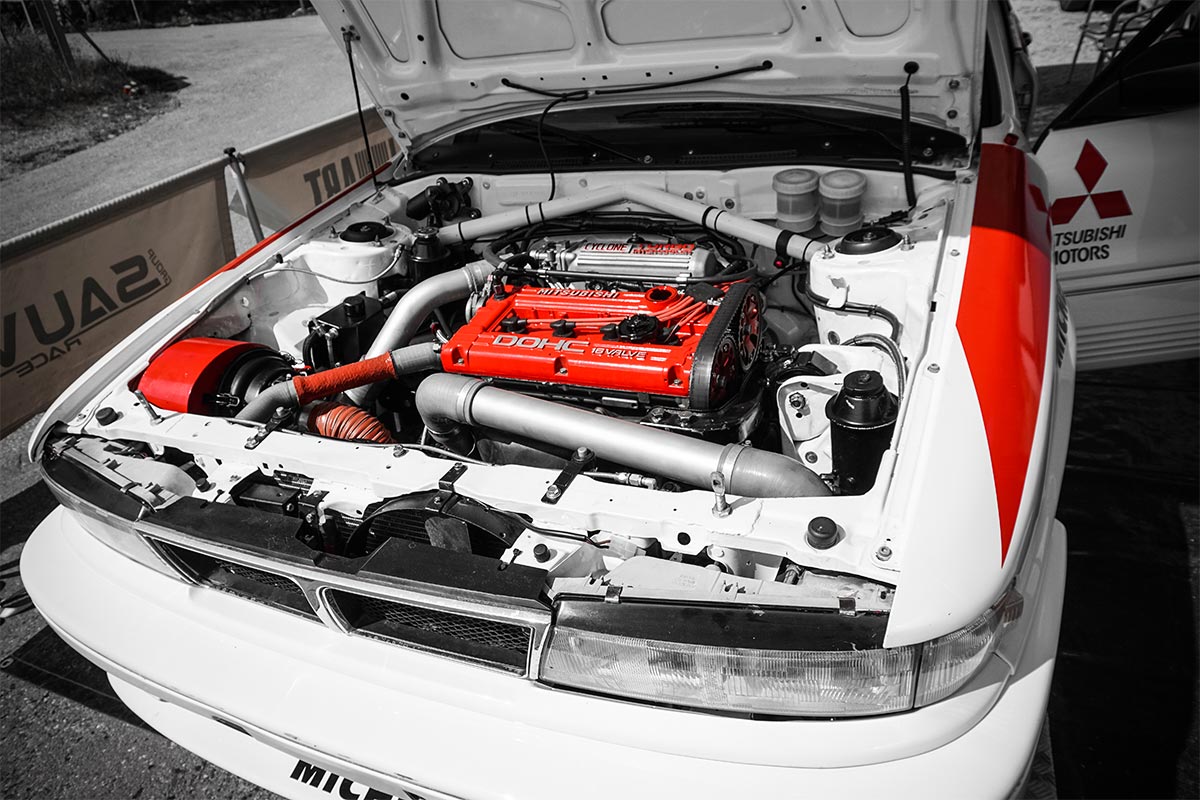 Mitsubishi Galant VR-4 : come back !
Team Sauvan Historic, well known to rally enthusiasts, and the Car Museum Club de Vence, invited us to one of the first driving sessions of the famous Mitsubishi Galant VR-4, now eligible for VHC rallies (historic vehicles of competition).
So we went to Utelle, to attend what was a "burn-in" session of the car. This step, a necessary prerequisite for the development and use in racing, can prove to be long and tedious. Yet the day went by at lightning speed.
Surrounded by real pros, passionate about racing, we spent hours talking about cars.
Gilles Ciamin, trial driver, former champion of France and Europe in the 90s, had a nice surprise in store for us: his son, the young WRC2 rally driver who was behind the wheel of the Mitsubishi Galant VR -4!
Meeting of two worlds and two eras! The elders knew the famous Mitsubichi Galant VR-4 in the 90s, when it skimmed rallies in Group A.
A worthy ancestor of the Lancer EVO, the Galant VR-4 was known for its fiery temper, its explosive engine and the characteristic roar of its 2-liter turbocharged engine. The car we are presenting here is a real Mitsubishi Official Ralliart Germany driven in particular by Erwin Weber in the 90s, in a strict original configuration, it is therefore eligible for modern VHC rallies.
At the wheel of the Mitsubishi, well concentrated behind his black Ray-Ban, it is Nicolas Ciamin who welcomes us with a friendly smile.
The time to install our drone and our GoPro and it is already the first turns of the wheels to warm the engine and the spirits.
Nicolas Ciamin & the Mitsubishi Galant
We take advantage of a break after a few runs, to question Nicolas on his young career and his feelings towards Mitsubushi.
Nicolas, when did you first realize your attraction to rallying: "My father brought me to rallies at a very young age. He already owned a few beautiful vehicles and I enjoyed accompanying him, finding myself in the At the age of 16, even before having my license, I started to practice the circuit.Initially, I found it a bit tedious, but I quickly had fun while increasing my experience. These were 2 rich years of teaching. I was then finally able to start practicing my favorite sport: rallying ".
How did you become a semi-official driver for Citroën: "In the world of rallying, a lot of observers are working to spot drivers with potential. I had the chance to be Espoir Échappement in 2014, when I was I was only 16 years old, driving a 208 (Racing Cup Peugeot Sport). Then I won the title of vice-world champion in junior rallies in 2017. I then had the chance to win some great events, such as the 59th edition of the Rallye du Touquet in 2019 ".
Can you tell us a few words about the world of rallying? "It is above all a human adventure. The co-pilot, the team, the mechanics … there is a formidable team spirit which allows you to have fun while having the feeling of being part of a family very close-knit, passionate about racing. "
The search for sponsors is a constant preoccupation: "Yes, it is true, a rally season represents a considerable financial amount. I am lucky to benefit from my father's experience and the support of loyal sponsors, but I have to admit that we are still looking for funding … so if you could get the message across! " (laughs).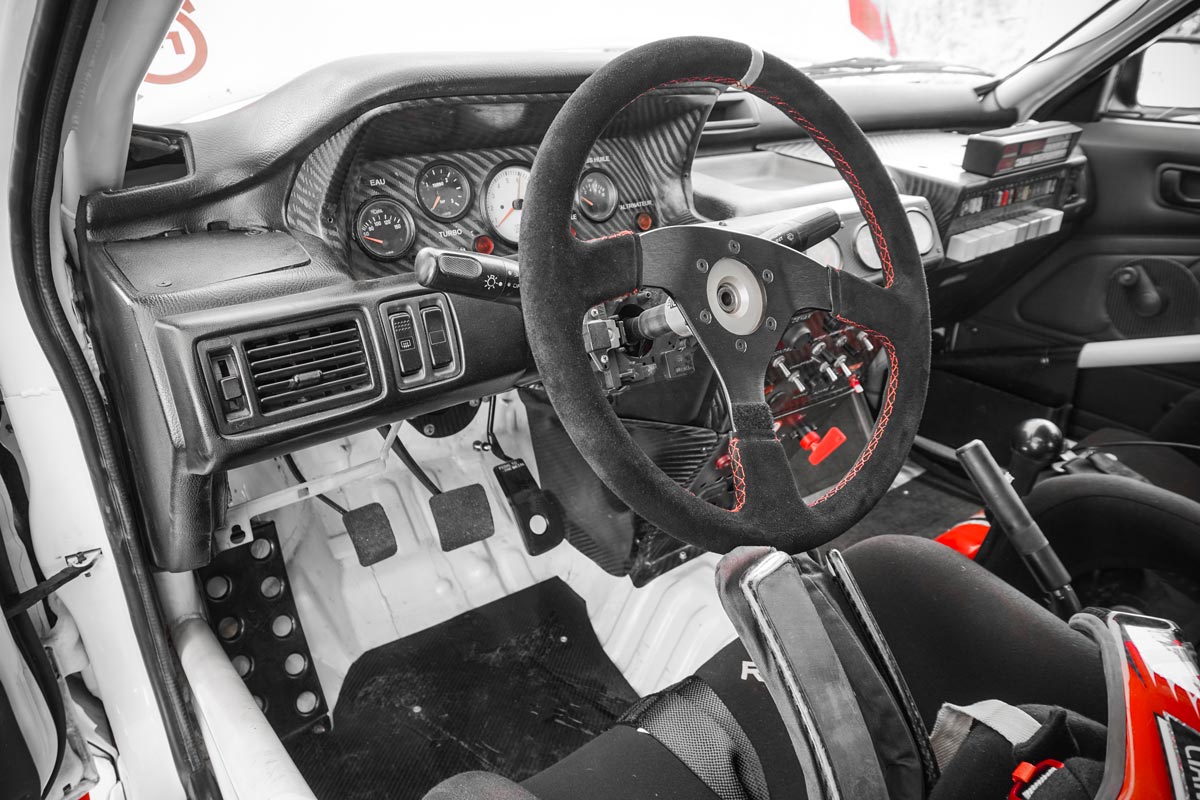 A word about the day today: "I am doing the Sauvan Historic team a service by participating in the debugging of the Mitsubishi Galant VR-4 and I take this opportunity to help the Car Muséum Club which supports me. allows you to kill two birds with one stone.In addition, after driving an R5 Turbo Tour de Corse this week at Turini, I am continuing with the Mitsubishi Galant at Utelle … we can say that I combine work, pleasure and experience ! "
What do you think of the Mitsubishi Galant VR-4 prepared by Sauvan Historic? "It's a historic car, interesting, with a strong character. I compare with my Citroën C3 R5 WRC2 and I appreciate the progress made in terms of engine, but especially in terms of chassis and damping. elsewhere a little trouble with the braking of the time, which seems to me really far from current standards, but that is undoubtedly part of the charm of the VHC. We aim for the pleasure of driving, before the performance. It makes sense to compare cars that are 30 years apart. However, I felt positive about the Mitsubishi. After this day of "burn-in", we will certainly find areas for improvement. It is a car that really has good potential in HCV. "
Enough about rally and sponsors, can you tell us a few words about your other passions? "The world of rallying is time consuming, but I try to devote time to my other passions, such as motorcycling and cinema. I also support the cause of animals and the actions of the NGO Sea Sheperd, which is devotes to the protection of the marine ecosystem and biodiversity. "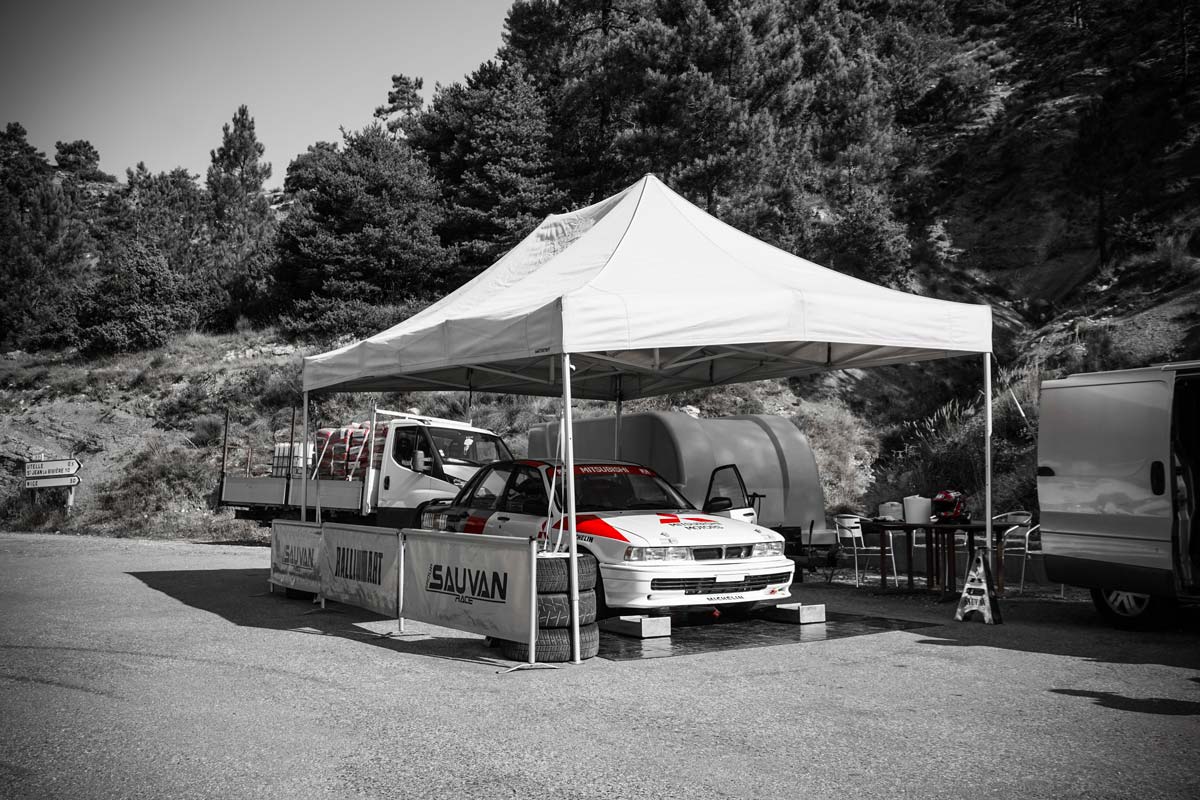 The Uncovers review about the Mitsubishi Galant VR-4
We are rather fans of the legendary Groups B, who rocked our childhood and left their lasting imprints on entire generations of rally enthusiasts. It is enough to quote the names of Lancia 037, Lancia Delta S4, Audi Quattro, Peugeot 205 Turbo 16 or even Lancia Stratos, so that amazed glances illuminate the faces of the assistance. The Group A category of which the Mitsubishi Galant VR-4 was part at the time did not attract us too much. Especially since it must be admitted that the general line of the car does not really inspire admiration, at least at first glance. A classic design, little bestiality, and in general, a rather discreet charisma … But we must admit that after seeing it turn, we come back to these a-priori a little critical. The car runs very hard, thanks to its 2-liter turbocharged engine and ultra-rigorous body behavior. Braking, an essential safety point, will be further improved, for better bite and optimized endurance, during the next practice sessions of Team Sauvan Historic.
Engine: 4-cylinder 16-valve turbocharged
Special thanks to Gilles & Nicolas Ciamin and to Team Sauvan Historic
We would like to thank the entire team present when we came and in particular Mr. Gilles Ciamin for his good humor and his great kindness.
Construction, renovation, hoop manufacturing, rental of historic competition vehicles
565, chemin de Fondurane
83440 Montauroux
06 09 52 34 91
Did you like the article ? Discover our test of the Alpine A110 (new generation)!